Have you ever heard of Victor Wembanyama? If not, it's time to take notice of this young basketball phenom. At just 18 years old, Wembanyama stands at an impressive 7'2″ and has already made waves in the basketball world with his remarkable talent and potential. Hailing from France, Wembanyama has already been compared to some of the greats in the game, and his future looks promising. But who is he exactly and how did he become such a force to be reckoned with? Let's take a closer look at the rise of Victor Wembanyama.
Overview of Victor Wembanyama's Career
Victor Wembanyama is a French basketball player who is expected to go first overall in the 2023 NBA draft. He has gained notoriety for his towering height of 2.21 meters and his 8-foot wingspan along with his astonishing blend of size, skill, and grace. Victor started his professional career with Nanterre 92 in 2019 playing in the EuroCup. He currently plays for Metropolitans 92 in the LNB Pro A. Victor's family background includes tall and athletic individuals, and his father is a former triple jump champion. His mother was also a basketball player and is now a youth basketball coach.
Victor Wembanyama Early Life and Family Background
Victor Wembanyama comes from an athletic family. His mother, Elodie de Fautereau, played professional basketball before becoming a youth basketball coach. His father, Felix Wembanyama, is of Congolese descent and was a track and field athlete who excelled in high jump, long jump, and triple jump events. Victor's grandfather and siblings also played basketball. Basketball has always been a part of Victor's life, and he was introduced to the sport by his mother. Victor himself was born in Le Chesnay, France.
Introduction to Basketball
Introduction to Basketball: A Professional Guide for Beginners Victor Wembanyama
1. Basketball is a team sport played on a rectangular court with two hoops on opposite ends. The objective of the game is to score points by throwing the ball through the opposing team's hoop while preventing them from doing the same.
2. Each team consists of five players, with positions including point guard, shooting guard, small forward, power forward, and center. Each position has specific roles and responsibilities on both offense and defense.
3. The game begins with a jump ball at center court, and play continues for four quarters of 12 minutes each. If the game is tied at the end of regulation, overtime periods are played until a winner is determined.
4. Fouls are called for various infractions, including physical contact, traveling, and double dribbling. Players may also be called for technical fouls for unsportsmanlike conduct.
5. Basketball requires a combination of physical and mental skills, including agility, speed, hand-eye coordination, and strategic thinking. Practice and dedication are essential for improving one's skills and mastering the game.
6. Basketball has a rich history and is a popular sport worldwide, with professional organizations including the NBA in the United States, EuroLeague in Europe, and many national teams competing in international tournaments like the Olympics.
7. Whether playing for fun or competing at a high level, basketball is a challenging and rewarding sport that provides opportunities for personal growth, teamwork, and achievement. So grab a ball and hit the court, because in basketball, anything is possible!
Read More : Aaron Judge Girlfriend Aaron Judge and Samantha Bracksieck Relationship Timeline
Youth Career and Accomplishments
Victor Wembanyama started his basketball career at the age of seven, playing for Entente Le Chesnay Versailles before joining the youth system of JSF Nanterre. He quickly drew attention to his exceptional height, being scouted during an under-11 game by a Nanterre youth coach. In 2018, he played for Nanterre's under-18 team at the Adidas Next Generation Tournament, where he set a record for blocks per game in a single tournament. He then gained his first professional experience with Nanterre's senior team in the 2019-20 season, making history as the second-youngest player to play in the EuroCup. Wembanyama's impressive performance led to him being named the Best Young Player of the Year in the 2020-21 Pro A season.
Victor Wembanyama Professional Debut and Performance
As a highly-touted prospect, Victor Wembanyama made his professional debut in the 2019-2020 season with Nanterre of the LNB Pro A. He played limited minutes in two EuroCup games, primarily competing in the French under-21 league and under-18 national team. Wembanyama impressed at the 2020 ANGT, setting the tournament record for blocks per game and leading his team to a second-place finish. He also played for Nanterre's senior team and under-21 teams in the 2020-2021 season, as well as signing with a team in the NM1. Despite suffering a broken finger that sidelined him for two months, Wembanyama continues to impress as one of the top basketball prospects of all time.
Wembanyama's Projections for the NBA Draft
As a projected top pick in the upcoming NBA draft, Victor Wembanyama has already captured the attention and admiration of basketball fans around the world. Standing at an impressive 7-foot-5, the 19-year-old French prospect has drawn comparisons to LeBron James and is regarded as a generational talent. Despite playing in the top professional league in France, Wembanyama's skills and dominance on the court have earned him elite status and high projections for his future in the NBA. With his impressive stats and mastery of the game, it's no wonder that he's predicted to have a successful career in the NBA.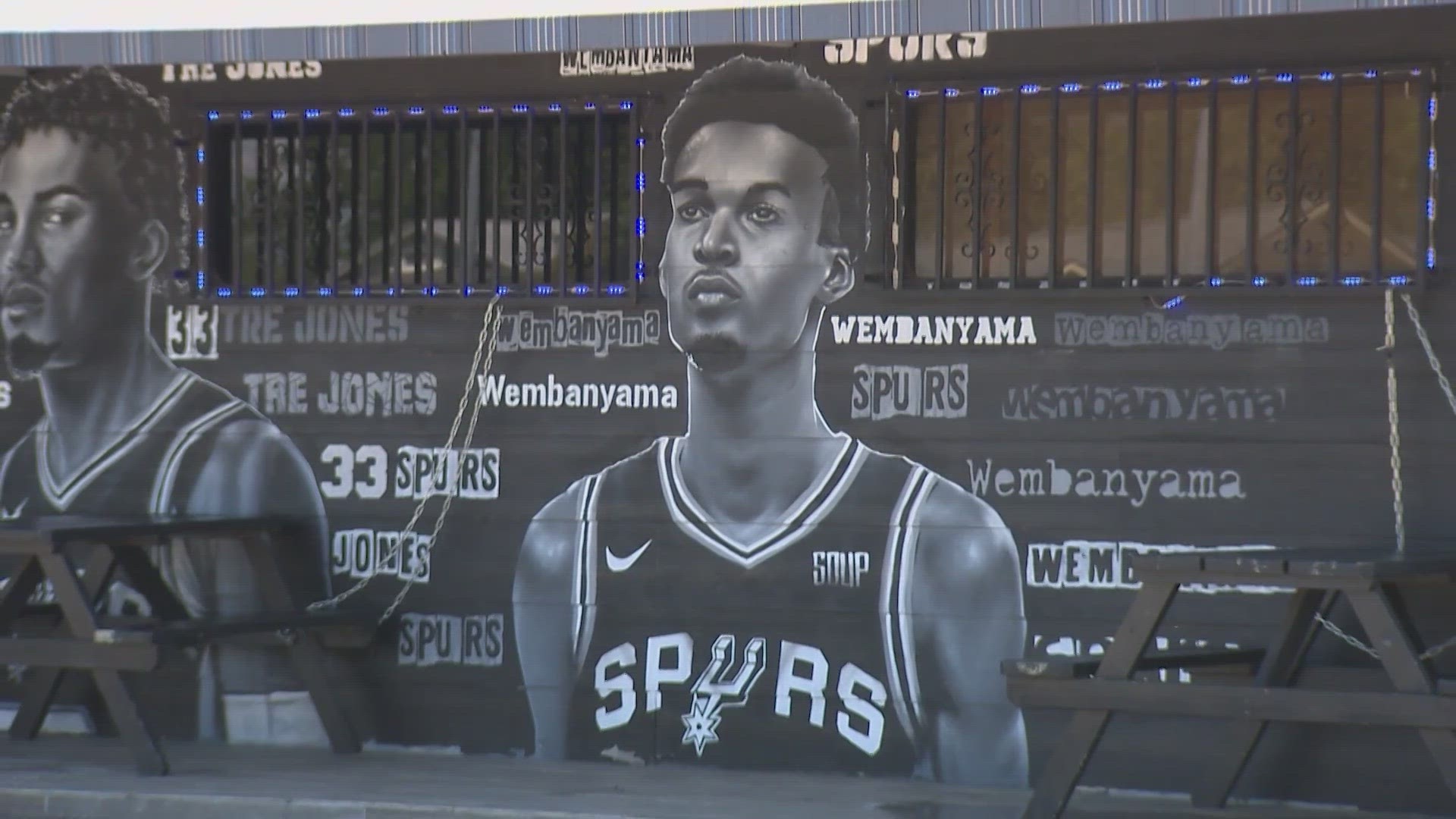 San Antonio Spurs' No. 1 Pick and Interest in Wembanyama
Congratulations, San Antonio Spurs fans! Your team won the No. 1 pick in the 2023 NBA Draft and is expected to select Victor Wembanyama, a 7-foot-3 French phenom who has been on NBA scouts' radars for years. Wembanyama is known for his unique blend of size, athleticism, and guard-like skills, making him one of the most highly touted prospects in NBA history. He has been compared to legendary players like David Robinson and Tim Duncan, both of whom were first overall picks for the Spurs. With his impressive abilities and his fit with the Spurs organization, Wembanyama is expected to make an immediate impact and help the team contend for a championship in the near future.
Victor Wembanyama Journey to the Top of the Draft Board
Victor Wembanyama is a 7-foot-5 French basketball prodigy who is expected to be the San Antonio Spurs' first overall pick in this year's NBA draft. He has stunned basketball fans with his exceptional skills, becoming the top scorer in the LNB Pro A league, leading his team to the playoffs. Despite being just 19 years old, he has emerged as the most highly touted prospect since LeBron James in 2003. Experts have described him as a generational talent, capable of playing like a point guard, and compared him to the NBA's recent MVPs – Nikola Jokic and Joel Embiid. His journey to the top of the draft board has been marked by hard work, dedication, and a relentless focus on improving his skills.
Wembanyama's Decision to Not Attend NBA Draft Combine
As one of the top prospects for the 2023 NBA Draft, there has been a lot of anticipation surrounding Victor Wembanyama's potential attendance at the NBA Draft Combine. However, he has made the decision not to participate in the event, citing his commitment to his current team, Metropolitans 92, in the French basketball league. While fans and teams may be disappointed not to get a closer look at the talented forward/center, his decision is understandable given his dedication to his current team and the success he has had so far in the league. Regardless of his absence at the combine, Wembanyama's talent is undeniable and he is expected to be a top pick in the draft.
Recent Performances and Updates on Victor Wembanyama Career
As of May 17, 2023, Victor Wembanyama is the projected No. 1 pick in the 2023 NBA Draft. The 7-foot-5 French prospect is currently playing for Metropolitans 92 in the LNB Pro A, where he leads the league in scoring, rebounding, and blocks. Despite missing time last season due to injury, Wembanyama captured the LNB Pro A scoring title and helped lead his team to the playoffs this season. He has submitted paperwork to the league office for the draft and is not attending the NBA draft combine due to his team's ongoing season. The San Antonio Spurs own the No. 1 pick and have been widely expected to select Wembanyama.